Sewing Lesson Classes from Kathy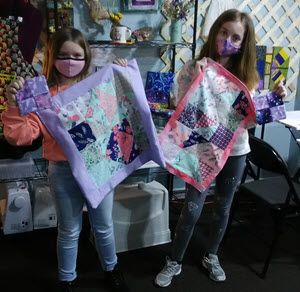 Classes are by appointment only. Please call (508)-873-5645 to schedule a group or private lesson.

If you would like to take class with friends or family members, I can do a group of four. Things will update when restrictions are lifted so keep checking here.

Let's talk about sewing!

I will help you figure out the tools that make sewing the creative outlet to help you make some wonderful items for yourself or others.

I know you're out there, the machine hiding somewhere in the house, haven't sewn in a while because life just got busy.

You just got that machine, still in its box; or you have taken it out only to make masks and you are ready to go beyond the straight stitch.

Seriously, sewing is creating with fabric. And when you have figured out the tools you can make a masterpiece! You draw lines with a pencil, you can use a needle and thread.

You cut out circles and squares, you can cut out shapes to make anything from a pillow, a quilt, placemat, scarf, the possibilities are infinite.

I could go on, yet the best thing is sewing is a known stress reducer.